SWAG WORLD
>>The new CD cover of the soon to be released CATCHALL<<


(I like the lava lamp!!)
The assemblage cover for Catchall was created by Robert, Jerry Dale, Ken and
Doug. The design and artwork is being done by Doug .
Catchall tracklisting...
1. Lone (Reynolds, McFadden, Huff; vocal: Robert)
2. I'll Get By (Powell, Bill Lloyd; vocal: Doug)
3. Near Perfect Smile (Reynolds, McFadden, Powell; vocal: Robert)
4. Please Don't Tell (Reynolds, McFadden, Powell, Coomer, Huff; vocal:
Robert/Jerry Dale)
5. When She Awoke (Powell, Petersson; vocal: Doug)
6. Louise (Reynolds, McFadden, Huff; vocal: Jerry Dale)
7. Different Girl (Reynolds, McFadden, Huff; vocal: Scotty)
8. You (Reynolds, McFadden, Coomer, Petersson, Lewis vocal: Robert/ Jerry Dale
9. Eight (Coomer, Powell; vocal: Ken Coomer)
10. Ride (Reynolds, McFadden, Powell, Coomer, Huff; vocal: Jerry Dale)
11. She's Deceiving (Reynolds, McFadden, Powell, Coomer, Huff; vocal:
Robert)
---

Photo from Bill Lloyd's website taken by Jeff Bruton
"GOING SWAG
Members of Wilco, Cheap Trick and the Mavericks Play Good Pop
Although Ken Coomer is immersed in tedious tasks – packing and labelling
boxes to move into a new house in Nashville - the Wilco drummer gets
downright giddy when discussing Swag, his latest musical endeavour with his
Music City pals. "It feels like you did when you first started a band", he
says. "It's exciting, you know?"
Swag was conceived in various hotel rooms by the Mavericks' Robert Reynolds
and Jerry Dale McFadden, who would hole up and write pop tunes while on
tour. The pair recruited Coomer and solo artist Doug Powell, a few singles
and compilation tracks were dashed off and it was good. When McFadden met
Cheap Trick bassist Tom Petersson in an elevator and convinced him to join,
it got better. Swag's recently released Different Girls EP *(Space Baby)
isn't only pretty on the outside, its a 10-inch picture disc – its inner
grooves are gorgeous, too, sporting a few up-tempo rockers and "Different
Girl", a lost-love ballad that believes in Paul McCartney, Pet Sounds and
not much else.
"That was a definite tip to the Beach Boys", says Coomer. "I mean,
everybody does it, so why not come out and say it? It's fun, because no one
feels like we have to prick the finger and be blood brothers. We all do
other things and we get together when we can. We laugh."
Jovial and prolific, the members of Swag recently recorded seven more songs,
adding up to an album worth of material. After Coomer settles into his new
digs, he's off to Chicago to record the new Wilco album which he describes
as somewhere between Being There and Summer Teeth. As for Swag, Coomer's
highest hopes are "three square meals a day", he says before breaking into
laughter. "Oh, that was good. That was like Indie Rock 101 wasn't it?
I'd like to see someone pull out the record and for us to go to Japan.
Matthew Fritch
Magnet Magazine
June/July 2000"

SWAG BAND MEMBERS
Jerry Dale McFadden,
Doug Powell (with son Julian),
Tom Petersson
June 24 2000
in the control room of Brad Jones' "Alex The Great" studio
---
JEFF FINLIN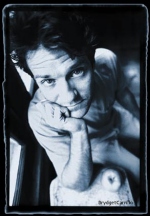 Jeff will be touring with Kevin Montgomery, Paul and Robert in the United Kingdom. A very special thanks to Jeff for doing this interview.
If you haven't picked up his cds yet, go for it!! Simply amazing
Q: We're looking forward to seeing you in the UK later in the year. What are your thoughts on sharing a stage with Robert Reynolds and Paul Deakin? Will you survive the experience?
A: It should be great - what a great section they are. I'll look forward to seeing what I can learn - life's all about learning, ya know. And I'm looking forward to working with Paul. When I first saw him play he just blew my mind: being a drummer myself I like that 'no bullshit - boom-whack' kind of drumming.
Q: You've been Kevin Montgomery's drummer in the past: how did you two meet? Have you worked with Doug Pettibone before?
A: I've known Kevin since he was about sixteen years old. I used to work in this little vegetarian restaurant that all the writers on the row would come to. He'd come in there when he was just a kid trying to write with all these people - he's still the same way now, just full of enthusiasm. Years later, after he went to L.A., he called me to play some drums with him. I don't know if he even remembered that we'd met before. Kevin was also the one that turned me on to Doug Pettibone: I started going to L.A. to try and find some interest and he played with me the night I got signed to Pete Anderson's label, Little Dog, who put out my album "Highway Diaries".
Q: What was your response to being asked to tour the UK with these guys?
A: Well I've been a musician and an artist for twenty years now and we are known to start believing things are going to happen after they've already happened (like tours and records). Too many cracked and broken promises smashed on the highway behind us. But after it sunk in I was nothing but moved.
Q: You started off as a drummer in a band called The Thieves; what was the catalyst that made you make the move to singing? Were you a frustrated singer all along?
A: No, not really - I liked being a drummer but eventually it just got old and I felt I had something to say - and when I didn't say it I felt like a prisoner in Shanghi in the dark with this slow drip, drip, drip, splashing on my head - it was torture. So finally I just decided that the hardest thing I could do was write and record a record on my own - so I did it.
Q: Have you always been moved to write songs? Do you find it easy to write?
A: I find it easy now because I just write when it comes. I used to spend hours and days slaving over a hot Underwood typewriter beating my head against the wall. I'd write for eight or nine hours every day and scour books, poetry and cooking shows in hopes of finding something that would inspire me to scribble brilliance. But alas, like a great bird I sank from that sky and came down to the grace of the day - and that is what I write with now.
Q: You play some evocative piano on a couple of tracks on the album "Original Fin". Do you compose on piano?
A: Yes I do, I twinkle the keys - a friend gave me a turn-of-the-century upright and I just sat down and started with it. It expands the melodic platform tremendously, and when I get bored with guitar I can go with it.
Q: Describe your piano-playing.
A: I would describe it as minimalist; a wondrous scratching; a tinkering of the tusk; a weeping of the hammers; the fondling of the black and white; a kiss and twinkling; a musical sort of making love.
Q: Which of your songs would you urge people to listen to, and why?
A: That's hard because so many different people like different songs for different reasons (that makes me feel good because it makes me feel like I'm providing depth), and I'm too close to them as well. But if I had to pick, I like "Napoleon, Josephine and Me", "West of Rome", "The Perfect Mark of Cain", "Love and Happiness". OK I said it, are ya happy! I love to complete ideas and see how far I can meld and stretch them - and I love a wacked-out story - so I guess "Napoleon" and "Cain" on that level.
Q: You've been compared to John Hiatt, John Prine, "Steve Earle with a thesaurus" and Lou Reed. Any thoughts on that?
A: No, not really.
Q: Who would you prefer to be compared to?
A: I hate comparisons because most people who compare have about a ten-year history for their comparisons - or they base their comparison on someone they know who made a lot of money. I think Mark Twain would be nice – or even Huck Finn himself.
Q: Any amusing stories to tell us about life on the road?
A: Most of my road experience has been awful – lots of driving and sleeping, days off in crack motels with five dollars a day to eat on, waiting for a gig to happen. Hard, hard traveling and dreaming. In Florida you get tired of shuffleboard and rum; in Seattle the salmon goes stale; in L.A. the glitter fades and falls to endless freeways. The best parts are those times when the magic happens and you feel after all the shit you've gone through you get a chance to connect with someone - you look out there and you actually see in someone's eyes you're getting through. That's when it all seems worthwhile.
Q: Richard McLaurin (Farmer Not So John and occasional 'guest' in SWAG) plays slide on "Waiting on a Flood". How did you meet him, and what is the possibility of you ever being a guest in SWAG?
A: I don't know. I guess that's up to Jerry Dale. Jerry used to be in my band before he joined the Mavericks. He is actually the wacked-out piano player on the track "The Hard Way" which you can listen to on http://www.mp3.com/jefffinlin . Anyway, Richard was in Jerry's band at the time - and that's how I originally met him. We then played in Mathew Ryan's band for a while together.
Q: You have two albums out, Highway Diaries (1997) and Original Fin (1999) and there's a third on the way. Is the music in your newest album shifting focus or carrying along in the same vein?
A: It's similar - thematic with my lyrical twist but we did things like brought in horns – including Randy Leago and Jim Hoke (a guest in SWAG) - and I used some players who have played with me forever - like Dave Jaques (John Prine) and Doug Lansio (Patty Griffin and Nancy Griffith). We all piled in there and clocked like 85 hours in six days. We had a guy come over and barbecue for us - the studio was literally filled with smoke and we were all rolling around on the floor laughing and the stories started flying. When we were done, we had like twelve songs and I'm real excited about it. It's going to be called "Somewhere South of Wonder".
Q: Do you have a release date for the new album?
A: No, not yet, we are still tweaking on it.
Website: JEFF FINLIN
=======================
Original Fin available from
http://www.milesofmusic.com
Tracklisting:
Love and Happiness / June / The Perfect Mark of Cain / Waiting on a Flood /
She's a Mama Now / Kisses From A Train / Weight of the Flame / Eighteen Tons/
Moonlight Becomes the Dawn
........
Highway Diaries (available from
http://www.nbfny.com )
Tracklisting:
Napoleon, Josephine & Me / West of Rome / Lovers in the Street/
Sunday's Forgivin' / The Promised Land / Hammer Down/
Only An Immigrant / Come On Annie / Idaho / For The Life In Me
Producers: Laron Pendergrass, Jeff Finlin
=======================
MAVERICKS
UK FAN CLUB
Hi! Mavericks fans will be interested to hear that a new UK based Fan
Club site is now online!
http://www.the-mavhouse.co.uk
In the near future the Fan club will be offering a membership postal service - featuring a quarterly newsletter and updates, etc.
If any fans in the UK or Europe are interested in joining the Mavericks Fan Club UK, and would like to receive further information shortly prior to launch, please email with your name and postal address details to: mavhouse
or by snail mail to:
The Mavhouse
(The Mavericks Fan Club UK)
PO Box 316
Huntingdon
PE29 7GQ
UK
The Fan Club is approved by The Mavericks and is complementary to the US based Fan Club.
We look forward to welcoming new members soon!
Thanks!
Jacky Malins
MFC UK President.
---
FROM ROBERT
To All Mav Fans-
Sorry I've been away from this for so long. I want to say above all a great big thanks for your interest in the Mavericks and our music. I appreciate your patience with the fan club at this time-it's in my hands right now and organization is not what I do best.
As you know, we're taking most of 2000 off, much as we did in 1997. We'll hope to see some of you at the Dave Matthews dates and anything else that might come up between now and the end of the year.
This time off gives us, as individuals, a chance to do a lot of things many of which are very important. On that note I want to personally thank you in advance for your support of Paul and me on the UK tour. This is going to be a special project and we'll look forward to seeing you there.
My very best wishes,
Robert

---
In an effort to keep the lines of communication open with Mavericks fans everywhere, Robert Reynolds would very much like to hear from you!
Please address any questions you might have for him as follows:
Questions for Robert (in the subject line) in care of The Mavs UK Fan Club E mail : mavhouse@ntlworld.com
Or if you wish to send a question in writing (or know someone who does not have access to a computer) forward your inquiries to:
Questions for Robert
The Mavericks Fan Club UK
P.O. Box 316
Huntingdon
PE29 7GQ
UK
The deadline for sending in Robert questions is July 31, 2000
Once questions are compiled and presented to Robert, a transcription of the questions and answers will be made available for all to read.
---
THE
MAVERICKS
TOUR DATES
The Mavericks will be opening for
The Dave Matthews Band August 4, 5, 6 th in George, WA at the Gorge Amphitheatre
DMB webpage
---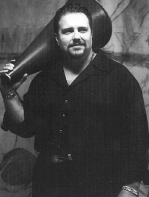 Raul Malo
singer/song written, guitar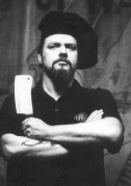 Nick Kane
guitar

Robert Reynolds
bass backround vocals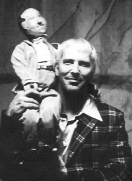 Paul Deakin
drums
Someone sent this one
in and I had to share

Mr Deakin

---
SCOTTY HUFF
SAYS
This news from Scotty, who says "hi" to everyone:
It kinda follows on from Raul's radio interview, where he mentioned that he was finishing up producing a K T Oslin album. Scotty and Doug from the Havana Horns (plus a few other studio musicians) played on a track called "Mexico Road" which will hopefully get on the album. Scotty wrote the horn arrangement.
Doug also played some solo sax on another song for the album.
As we can all imagine, everyone had a great time at the recording session. Scotty said KT is a wonderful person and singer and he can't wait to hear the final mix. He also hopes everyone will like it when they hear it.
SCOTTY'S PAGE

---
Paul Gagne writes
Hi, gang,
I have some news to pass on about yet another tribute project. Raul Malo has been in Nashville recording Bruce Springsteen's "Downbound Train" as a solo track for a tribute to Springsteen's "Nebraska" album. (If you Springsteen fans are paying attention, "Downbound Train" actually appeared on "Born in the U.S.A." rather than "Nebraska.") Other artists contributing to the
project include Chrissie Hynde, Counting Crows and Fiona Apple. The CD will be released on the independent Sub Pop label. More details -- date, title, etc. -- to follow.
Paul G
---
DAVE HARDIN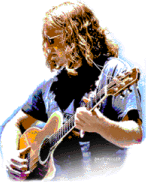 Nine Years Alone
Available at
Miles Of Music
"Robert and Scotty invited Dave to Nashville to write together! In fact Dave visited with Robert during the third week of June and again in July!"
Dave Hardin's page
Another amazing voice!! Check him out
---
NEXT MONTH
A special "tribute" to a great Maverick. 1993 / 2000
Secret guest interview!!
And much much more
---
MP3 LINKS
---
SWAG