Paul Deakin;
Baby Vaughn arrived June 8th 2000
weight 8 pounds 21 inches.
Everyone is doing well
CONGRATS TO PAUL AND TRACY!!
---
Jerry Dale McFadden;
Piano extraordinaire/dancer and ex Maverick tied the knot last month,
congrats and all the best to him.
---
February 10, 2000,
Swag played 12th & Porter in Nashville.
Robert Reynolds, Bill Lloyd, Ken Coomer, Kenny Vaughn (guitarist at large for Lucinda Williams, Kim Richey and others), Jerry Dale and Brad Jones (record producer-sometimes recording artist-man about town. (see below for cd info)

Photo by John Bruton. Source: Bill Lloyd's website -http://www.billlloydmusic.com/
( I had the privilege of hanging at 12th and Porter while in Nashville a few years back and must say...Logan makes THE best marguaritas ever !!)
(How is he these days I wonder...?)

---
Kevin Montgomery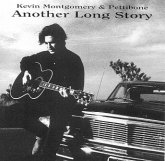 Kevin Montgomery will be touring the UK with Doug Pettibone, Robert Reynolds and Paul Deakin for 2 weeks commencing 26 August 2000, followed by visits to Italy and Holland. Jeff Finlin will be opening the shows for him. We're very grateful to Kevin for his co-operation in the following interview.
Q: When and how did you get involved with Robert Reynolds and Paul Deakin?
A: The Mavericks and I, along with Mary-Chapin Carpenter, appeared on the Not Fade Away (Remembering Buddy Holly) CD together.......on different tracks, so I think Robert sort of knew me through that, then I sang at a Buddy Holly tribute with Kim Richey singing Chapin's parts and Robert was the musical director for the show. Soon after, we started hanging out and Robert asked if I'd consider doing a band project with he and Paul. I had been wanting to do something like this for a long time, so I immediately said yes!!! So it has sort of snowballed from that moment.
Q: Whose idea was it to tour the UK with them and Doug Pettibone?
A: I believe Robert brought it up. He and Paul have been very supportive of the Kevin Montgomery and Pettibone CD, and soon after we started figuring out how to do this band Doug and I left for our first tour of the UK. It went well, and Robert said that they'd love to come over with us next time and help support our record and at the same time become "a band", and use the tour as a way to pre-produce the CD that we record.
Q: You've only just got home from your April UK solo tour, how did that go? Did you have an appreciative audience? Was it your first UK tour?
A: It was THE most fulfilling live experience I'd ever had. The audiences in the UK were just great. It had been in my head for years to try to get over there, and finally I just said, "That's it, I'm going". I didn't know what to expect, but it went great. I think the Bob Harris play on the BBC helped a lot.
Q: Are your August/September shows going to be wildly different to your solo shows? Will working with Robert and Paul be the highlight of your life so far or will it kill your career?
A: Well, the difference will be that they will be bigger and louder!!!! No, just kidding, actually we've already done a show in Austin at SXSW together, and it was great. They are both very passionate musicians, and you can feel that. I feel very lucky that Robert and Paul are my friends and that they've given of themselves and of their talents.
Q: What kind of music are we likely to hear on the upcoming tour with Doug Pettibone, Robert and Paul? Will there be any new material that you have written with Robert and Paul?
A: We will do some of the songs from my CD, but we'll also be doing songs that we want to record as a band. I'm sure that you can expect Robert to come out front and sing a few.......he's a great singer, and you could expect the unexpected. The spirit of this tour is very loose. We want to have fun and I hope the music reflects that.
Q: Are you having an opening act for the tour?
A: Yes, Jeff Finlin will be opening the dates. And like I told him, you can probably expect all of us to jump up on stage with him and support him on a few. He is a brilliant singer-songwriter from here in Nashville. He was my drummer when I toured in support of my A&M release........not that this is a highpoint in his career, or anything he would put on his resume, but he is an all-around musician. He also co-wrote two songs on ANOTHER LONG STORY ---- "Angel Tonight" and "Let's All Go to California". Anyone can listen to his stuff on mp3.com at http://www.mp3.com/jefffinlin --- although the two songs he has up there are not my absolute favorites.......but don't tell anyone. You can buy his new CD at http://www.milesofmusic.com . But really, I truly do feel that he is one of the greats and he is totally excited about coming over and being a part of this tour.
Q: I hear rumor of a possible surprise special guest on the tour...is this true?
A: Yes, there is a possibility that another artist might be joining our little tour. I can't say who it is, but I can say that if he/she joins us it will be a kick for me and I'm sure that everyone will freak out. I'll keep you informed, but don't get your hopes up too high.
Q: Do you have dates, venues, etc available yet? We know already about your forthcoming appearance at the Summer Nights in the Country festival on 26 August at Hopetoun House, near Edinburgh with Robert and Paul. (Festival will include appearances by Emmylou Harris, Steve Earle, Little Feat, Peter Bruntnell and the Felsons.)
A: Yes, the best place to see them will be at my mp3 page in the next couple of days. I'll have them posted up there--http://www.mp3.com/kevinmontgomery
(The latest information regarding dates and venues is at the bottom of the page. )
Q: How did your duet with Mary-Chapin Carpenter on the "Not Fade Away" Buddy Holly tribute album come about?
A: I saw Mark Wright (then Head of A&R for Decca Records) out one night, and he was talking about the project with a few people, so I told him I wanted to be involved. At the time, I was on A&M Records, so he said, "it is a duet album, so find somebody you would duet with", so I set my attorney/manager upon it. He also represented Mary-Chapin Carpenter's new manager, so he asked him to ask her. I had spent time with her and her producer in Aspen, so she immediately said yes. After we got our clearances from the labels we did the duet. Not too many people know this, but my father was Buddy Holly's best friend and musical cohort in the early days before The Crickets and wrote songs like "Heartbeat", "Love's Made a Fool of You", AND "Wishing" - the song we duetted on, so we brought him in to co-produce the song with Chapin's producer, John Jennings. It was truly a great experience on many different levels. The night before the recording we went over to John Jenning's house and pre-produced the song. I felt a special feeling that night when John started playing the song in a more reverent, ballady way. It felt like a little prayer at the beginning and end of the song.
Q: What inspires you to write songs, and what are your influences?
A: Unfortunately, death and the ending of relationships.......just kidding...sort of. I'm a big fan of the early-mid-seventies California country thing....Jackson Browne is my favorite...James Taylor, The Eagles, Dan Fogelberg, Paul Davis, Karla Bonoff, Aimee Mann--mainly in 'Til Tuesday days, Poco, JIMMY WEBB. I'd say my favorite writers are Jackson Browne, Jimmy Webb, Don Henley, Karla Bonoff, and Aimee Mann. I like anything that is real. Those writers mentioned all write from a very confessional, personal, naked point of view. When you listen to their songs you can relate to them.......THAT inspires me. Also, you've got to listen to anything by Patty Griffin. She has a song called "Joey" that gives me chills all over every time I hear it.......that inspires me! She's kinda cute, too.
Q: Will there be a single released from the album? You are getting some airplay on both Bob Harris shows on BBC radio in the UK, I understand - he even played three tracks in a row recently.
A: Yes, we're going to do the big push while we're over, and give it everything a little label like mine can do. We did a video for "Let's All Go to California", and that seems to be a favorite at radio. I'm gonna put it up on the website soon.
Q: You live in Nashville now, where do you originate from?
A: I'm originally from Nashville. My parents moved here about 40 years ago to make it in the music business from Lubbock, TX.
Website:
http://www.kevinmontgomery.com/
Details of the new release: Available now on-line at http://www.milesofmusic.com, and in selected stores in the UK. (US release in stores will be in Aug). Also available from http://www.kevinmontgomery.com/preorder.html
=======================
Kevin Montgomery & Pettibone: Another Long Story
Tracklisting:
Another Long Story/Let's All Go To California/Visions of White/
I Wish I Were Blind/
Looking Out For Number One/Angel Tonight/Stumbled/
Your Kind Of Love/Broken/At Our Best
Producers: various. Road Trip Records 698847000125 [UK]
=======================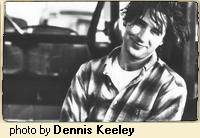 TOUR DATES
---
The Mavericks will be opening for The Dave Matthews Band August 4th, 5th, 6th
in George, WA at the Gorge Amphitheatre
---
THE MAVERICKS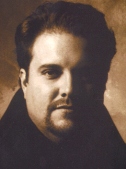 Raul Malo
singer/song writer,
guitar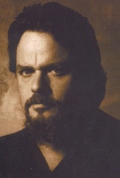 Nick Kane
guitar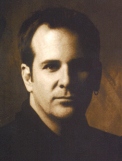 Robert Reynolds
bass
background vocals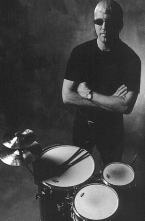 Paul Deakin
drums
---
CLASSIFIEDS
---
WANTED:
Video of Mavericks CMT Artist Showcase from early 1996.
mmedalen@wtsc.wa.gov
WANTED:
Live At The
Royal Albert Hall video
tgp1@earthlink.net

---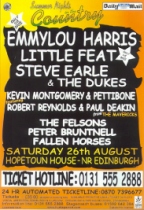 www.hurtleparrott.com
---
SWAG
Have recorded their first CD, "Catchall".
We don't have a release
date yet though. The four tracks from the
"Different Girls" EP appear on the album, together with 7 new tunes.
Guests on the album include Bill Lloyd,
Jim Hoke (NRBQ),
Scotty Huff, Kenny Vaughn & Brad Jones
(who also produced). Apparently drummer Ken Coomer performs his first
lead vocal.
If you haven't heard the Different Girls EP yet, you are missing a treat.
Here is the link for both listening to the four tracks and buying a copy of the CD. Go here
Magnet magazine, June/July 2000 is carrying an interview with Ken Coomer, who will be talking about the band.
An official website for SWAG will be appearing shortly. More news as it reaches us.
Also available now, there is a 10" picture disc of the Different Girls EP, with the great artwork by Winston Smith. Limited edition of 1,000 though. Copies can be obtained by either phoning Hep Cat Records on 1-800-404-4117
The product code # is LP Space 007. Also available from Not Lame Records
or from
Space Baby Records.
TOUR DATES
Kevin Montgomery and Pettibone (with Robert Reynolds &Paul Deakin)
08/26
Hopetoun House Edinburgh
08/28
The Musician Leicester
08/29
Borderline London
08/30
The Maze Nottingham
09/01
venue to be confirmed Brighton
09/05
venue to be confirmed Bristol
09/06
Star and Garter Manchester
09/07
The Adelphi Preston
09/08
King Tuts Glasgow