Q: When and how did you first join SWAG?
A: I joined officially in the summer of 1997. Jerry Dale invited me to the studio the previous fall to check out a SWAG session (for Every Little Truth) and that's when I met Robert and Tom. I ended up singing some backup vocals on the track and things were set in motion. A few months later I was asked to write some Christmas songs for my label mates (Mercury at the time) Hanson. I was telling Jerry Dale about it and he wanted to try to write one with me and so did Robert so we cranked a couple songs out and had a great time. Hanson turned them all down and we decided to record them ourselves and did it as SWAG. Those were the first sessions with the official lineup.
Q: Is SWAG's European tour going ahead? Do you have any details for us?
A: SWAG's tour of Spain at the end of April is still in pencil. That's all I can say for now.
Q: Catchall is to be released on March 13. Will there be a single released from it? Do you have a favourite track?
A: I believe the label, Yep Roc, is using "I'll Get By" as the single. My favorite track is "When She Awoke", which is very meaningful to me for a couple of reasons. I wrote that with Tom, who was one of my heroes as a kid. It was a privilege just to write with him, made even better by the good time we had and the fact that we came up with a song we both like.
Q: You designed SWAG's website www.swagweb.com as well as your own site www.dougpowell.com and Pat Buchanan's soon-to-be-aired site. Are there others we should know about? Is this a sideline to your music?
A: I also did Todd Rundgren's www.tr-i.com and did a lot of the content for his subscription site, www.patronet.com. Actually, music is a sideline to graphic art, unfortunately. I'm the only guy in SWAG who doesn't do music for a living. I used to, but the opportunities dried up and the responsibilities as a father and husband flooded so I got a dayjob. Oh and www.ferenzik.com A friend and great musician. He plays keyboards in Todd's band occasionally.
Q: The "Lone" video (from SWAGís "Different Girls" EP) was the result of your artistic endeavours too. Which is the next SWAG track in your sights? And do you have plans to make a video from your new solo album?

A: I don't know if there will be another or not. It's mainly a time factor. I will probably try to do one for my next record.
Q: I read that you also designed the cover for your album "More"... tell us how you went about that. Do you design all your covers or was this a first for you? And I'm guessing you'll be doing the artwork on the new album too...
A: The idea behind the cover was to cram as much adventure, novelty and entertainment onto the cover (and it's back). Calling the CD "More" had an ironic appeal to me. "More" also expresses the philosophy of the songs, each of which is a different take on the dissatisfactions of life. The art itself was inspired by Elton John's "Captain Fantastic and the Brown Dirt Cowboy". Great cover. The process involved finding about 100 pieces of painted graphic art from the 20s-50s and removing the context. Then, starting with the bigger pieces, I started putting them in place and found the spaces created by certain combinations suggested where other pieces could go. It was about a month-long process and the bulk of the work was done while recording Catchall (while other guys were doing their parts or Brad was mixing).

Q: When did you first start writing songs? Is it an easy process for you? What things inspire you to write?
A: I started when I was 9. I wrote on the ukelele because that's all I could get my fat hands around. I taught myself how to play Kiss songs, but found when I was figuring them out I would inadvertently play a wrong chord that sounded good. Pile enough inadvertent chords together and all of a sudden you got yourself a song! Eventually, I started dreaming songs and having a constant soundtrack of nebulous music in my head all the time. Out of this ideas do crystalize into songs fairly regularly. Some are effortless, some are forced, many are bad; but it is the discipline to weed through the stuff and try to make some coherent shape from the kernels that is the trick. There is really only one thing that inspires me to write and that is God. It is he who put the creative impulse in me and he who gives this life meaning and purpose.
Q: Who are your musical influences? I understand you're a Ray Davies fan.
A: Of course, the Beatles are the grammar of the music I make. Todd Rundgren is as influential, but I discovered him after the Beatles laid the foundation. He is still the most fascinating musician I have ever come across. I do love Ray Davies and consider him to be one of the most underrated, undercredited songwriters in rock. Jeff Lynne, Harry Nilsson, Randy Newman, Jules Shear, Elvis Costello, XTC, Brian Wilson; all people you probably could've guessed.
Q: A fan of yours in the UK wants to know what inspired Lime Street and Solomon Grimm.
A: Lime Street was a reaction to my distaste of the adoration celebrities. I wanted to write about how the real heroic, admirable acts are done by the anonymous every day and the great value of what is commonly characterized as everyday life and ordinary people. Ray Davies definitely created the template for that kind of song and so there's a big stylistic nod to him in the song. Solomon Grimm was inspired by the invention of the name. I thought it would be interesting to write a song that was reverse-Dickensian; where the name of the person was exactly wrong for his character.
Q: You play quite a few instruments - piano, guitar, drums... What did you learn to play on as a child?
A: All of the above, plus ukelele (which has since atrophied beyond recall). My mom was a professional flautist and made me learn piano first if I wanted to play drums or guitar. Bass is just a guitar in a different register (although the philosophy is a bit different) so that was no big stretch to learn.
Q: You have released three albums to date (Ballad of the Tin Men, Curiouser, and More). Which is your best one, in your opinion?
A: "More" is the best because of its coherentness - stylistically, sonically and in song quality. But I'm about a third of the way done with the next solo record, which will hopefully take its place.
Q: I heard Ringo Starr was going to record one of your songs.
A: After Hanson declined my Christmas songs, Mercury suggested Ringo do one for his Christmas record. I wrote one just for him and two were pitched. To no avail however. He ended up doing only songs he wrote or were Christmas standards.
Q: Which artists have recorded your music?
A: Defenestration, in 1987 (this was a college band that both Jerry Dale and I played in, although at different times), John Ferenzik (Rundgren's keyboardist on his latest solo record), Dave Perkins, Tod Cooper, Robin Pisciotta.
Q: When are we likely to see a new album from you?
A: Hopefully the end of this year.
Q: Do you have any memorable musical moments to share with us?
A: After playing an in-the-round show at the Bottom Line in New York, Carole King came up to me and held my hand and said one of my songs was her favorite of the night. Praise from Caesar! The song was "Can't Break My Heart" which SWAG actually did at an early gig as well.
Also I'm executive producing a tribute album to Jeff Lynne, a double disc set that will be out this summer on Not Lame Records. I have many of my musical mentors that are contributing to the project: that makes it even more special to me (but I'm not telling you who they are; you'll just have to buy it and find out).




Doug's Solo Albums:
More (1999) www.cdnow.com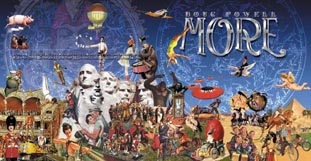 Prelude/Dinah Might/Empty V/Rise/March of Iíds/Dear Me/Fall In Deep/Solomon Grimm/Interlude/Lime Street/Spin World God/The Scent of a Rose/More
Curiouser (1998) , Not Lame Records - http://www.notlame.com
Let It Rock/When She Awoke/Just Like Montgomery Clift/Humoresque/Torn/Donít Say/Graceland/Cross My Heart/A Man For All Seasons/Canít Break My Heart/Are You Listening Betty Flowers/For The Love of God/Goodnight
Ballad of the Tin Men (1996)
Return to Sender/Itís Not The Weather/Unmutual/This Lionís Lamb/When White Was White/My Sweet Revolver/My Goodbyes/Day After Day/A Prayer For Ray Davies/To and From

SWAG Links:
www.swagweb.com
http://www.picknowl.com.au/homepages/cswann/swag.htm
http://www.btinternet.com/~han.made/swag.htm